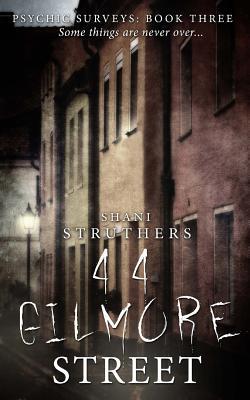 Summary
"We all have to face our demons at some point."
Psychic Surveys - specialists in domestic spiritual clearance - have never been busier. Although exhausted, Ruby is pleased. Her track record as well as her down-to-earth, no-nonsense approach inspires faith in the haunted, who willingly call on her high street consultancy when the supernatural takes hold. But that's all about to change. Two cases prove trying: 44 Gilmore Street, home to a particularly violent spirit, and the reincarnation case of Elisha Grey. When Gilmore Street attracts press attention, matters quickly deteriorate. Dubbed the 'New Enfield', the 'Ghost of Gilmore Street' inflames public imagination, but as Ruby and the team fail repeatedly to evict the entity, faith in them wavers. Dealing with negative press, the strangeness surrounding Elisha, and a spirit that's becoming increasingly territorial, Ruby's at breaking point. So much is pushing her towards the abyss, not least her own past. It seems some demons just won't let go...
Review
A brilliant finale to a series!
I read this a few weeks ago. 44 Gilmore Street was pretty timely after my disappointment with the movie, The Conjuring 2. The later was based on the infamous Enfield Poltergeist, but unfortunately made changes that didn't improve on the original story, giving it the Hollywood treatment.
44 Gilmore Street did immediately remind me of the Enfield story, with the haunting carry on happening to an average family, living in an average house on an average British Street. So I wasn't surprised when the reference to the case came up.
Let's face it, we don't usually expect people living down the road or next door to experience a haunting. Because most of us can relate to their living situation, it notches up the creepiness.
All the team return, but this latest case comes with the added scrutiny of the press. That and the persistence of a new client that Ruby is reluctant to take on threatened to drive a wedge into the team. And at a time they are facing one of their most violent hauntings, they need to pull together.
The writing, as ever, is engaging but simple and direct with the perfect balance of decription, carrying the reader through the action flawlessly. The story is complex with several misdirects so just when I thought I had it all figured out, it shifts again, keeping me turning pages right to the very end.
I highly recommend this entire series.